28 ott 2021
Discover main project categories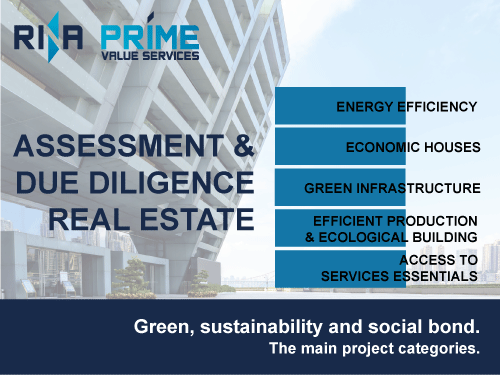 The green, social and sustainability bond market aspires to develop the key role that the bond market can play in financing projects that contribute to environmental sustainability, promoting integrity in the market by increasing the capital destined for sustainable projects. Such tools encourage all market players to use this foundation to develop sound practices, referring to a broad set of complementary criteria.
Specifically, according to the International Capital Market Association (ICMA), Green and sustainability Bonds are any type of bond instrument whose proceeds are used exclusively to finance or refinance, in whole or in part, new and / or pre-existing environmental projects, on the base of 4 fundamental components: use of proceeds, process of evaluation and selection of the project, management of proceeds and reporting activities.
RINA Prime Value Services has implemented a portfolio of specialized and innovative services to ensure the integrity, safety and regulatory compliance of assets in the context of sustainability.