06 ott 2021
Our Manuela di Marino at conference "ESG in Credit & Finance"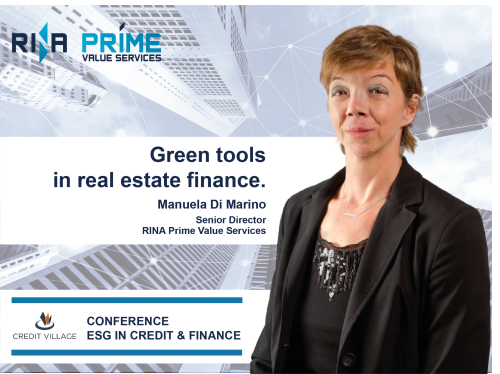 Real estate finance is one of the main players in the green economy and aims to provide, for each type of investor, the most suitable tool; naturally it is important to guarantee market transparency in order not to undermine the confidence of both professional investors and small savers.
These tools, in addition to reducing the riskiness of investments by protecting them from future "stress tests" to which the market will subject them, are sustainable both from an environmental point of view, guaranteeing the preservation of natural resources, and from a social point of view, to advantage of the weakest subjects.
RINA Prime Value Services acts in this context through a series of services aimed at obtaining the ESG rating and proposing real estate enhancement strategies. Manuela Di Marino MRICS, Senior Director of RINA Prime Value Services, spoke about it at the conference organized by Credit Village "ESG in credit & finance".